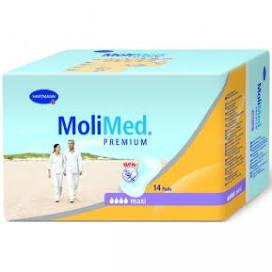 MoliMed® Premium Pads
Hartmann USA
The anatomically shaped pad with soft cloth-like outer cover. Especially designed for slight to moderate bladder weakness.
Curly Fiber maintains a skin-friendly pH 5.5 environment.
Compact, contoured design ensures comfortable and discreet wear.
Odor neutralizer.
Breathable topsheet and soft, textile backsheet for maximum air permeability.
Leg elastics and adhesive strip backing ensure secure fit and leakage protection.
Made in Germany.
Item #
Name
Quantity
Price
Total